Referrer Letter

Dr. Luke Mooney
I write to update you on several developments at Wakefield Orthopaedic Clinic.
New Calvary Adelaide Hospital:
We have moved into our new rooms at the Calvary Adelaide Hospital. This exciting new hospital is the largest private hospital in South Australia and boasts updated technology across all services. The private 24/7 emergency department contains twice the number of beds as the previous hospital. On the wards all patient rooms are single-occupancy rooms with ensuite bathrooms.
Mako Robotics:
Wakefield Orthopaedic Clinic have partnered with Calvary Adelaide Hospital to bring Mako robotic technology into the new hospital. This technique allows higher degree of planning, accuracy and execution of hip and knee replacements.
We will be holding demonstration and education events to explain the benefits of this technique in the coming months. To register your interest, please call Sharon on 8236 4151.
My Practice:
On a personal note, I continue to see patients with hip, knee and shoulder complaints ranging from soft tissue related pain and dysfunction, to arthritis related symptoms.
New Consulting Locations:
For patient convenience, I have now added consulting sessions in the North-Eastern and Western Suburbs. I am working with
PhysioFit group, 31 Smart Rd, Modbury
Adelaide Medical Solutions group, 850 Port Rd, Woodville
Pro Health Care group, 380 Grange Rd, Kidman Park

For appointments in these locations, patients may call Sharon on 8236 4151.
Please do not hesitate to call to discuss patient care or the above developments.
Best wishes for 2020,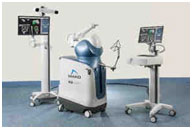 Luke Mooney
For appointments, advice or to request a meeting please contact my rooms on:
Email: adminmooney@woc.com.au
Phone: (08) 8236 4151
Fax: (08) 8236 4110
Address: Suite 4, Level 2, 120 Angas St, Adelaide, SA 5000
Website: www.drlukemooney.com.au
Now Consulting: Adelaide city, Modbury, Woodville and Kidman Park